Russian Visas Service Welcomes You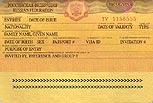 All travelers who wish to enter Russia will need a Russian Visa issued by the Russian Government, the Russian Consulate in the US or the Russian Consulate in your respective country. To obtain your Russian Visa you will need a Passport valid for a minimum of 6 months past the anticipated date of entry to Russia. A Russian Visa application should be completed in full and accompanied by an official Russian Visa support or invitation letter supplied by a travel company authorized by the Russian Ministries of Internal and Foreign Affairs. An entry visa for Russia may not be obtained on the border prior to entry.
Top Ten Reasons to use Russian Visa Services
Click here to submit your Russian Visa Order Form
Russian Visa Invitation Only
Same Day Fax Processing
$44.00 (per individual)
Full Service Processing
Type of Visa
Russian Embassy processing time*
6-10 business days**
3-7 business days**
Russian Tourist visas (valid 30 days)
Russian Consulate Processing Fees - Single entry
$140.00
$250.00
Double entry
$140.00
$250.00
Per Visa add the following:
Our Service Fee
$45.95 (per individual)
Application Conversion Fee
$20.00 (per individual)
Russian Visa Invitation
$44.00 (per individual)
FedEx Return Shipping
$19.95 (per individual) (Monday - Friday)
Processing times begin the next business day after receipt by our offices of all necessary documents for filing.
** excluding Consulate scheduled holidays. Russian Consulates recognize both US and Russian Holidays.


Necessary items for processing a Russian Visa:
A. 1 passport photo
B. Your original passport with min. 2 blank visa pages. Amendment Pages do not qualify.
C. Completed Russian Visa application downloadable or sent by email attachment or US Mail upon receipt of Visa Order Form
(*** Applications missing vital processing information will be subject to an additional $30.00 service fee)
D. Official Russian Visa support or invitation letter
E. Check or credit card payment for the appropriate amount


**All efforts are made to secure your visa accurately and within the time frame requested, however in the case of a visa being received subsequent to the requested date or with incorrect information, WWDL Inc. will only be liable to the extent of the actual costs of the visa. At no time and under no circumstances will WWDL Inc. be responsible for any damages, other than the cost of the visa, incurred due to incorrect entry/exit dates and or the visa arriving to the client past the requested date. It is our suggestion that you give yourself ample lead time when requesting your visa so if a problem does occur there will be sufficient time prior to your travel to rectify the problem.


Questions call 1-602-553-8178 (ext. 208) between 9am 5pm MST, Monday through Friday.