INFORMATION ABOUT VOLGOGRAD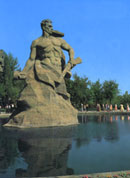 Founded in 1589, Volgograd, located on the bank of the lower Volga, is one of the largest cities in Russia, with a population of over 1 million people. Stretching in excess of 80 Kilometers, the city is interwoven with approximately 50 different rivers, most of them found in the basin of the Don. The climate is sharply continental.
Volgograd, formally known as Stalingrad, is rich in history and culture. It was founded in the 16th century and served as a fortress guarding the trade route along the Volga river. The Volga has always been of tremendous importance for Russia as an international, as well as domestic, trade route. The city grew rapidly under Soviet control. Numerous factories were destroyed during the Civil War and were later restored, which significantly increased their production. Volgograd was one of the leading industrial centers in the Soviet Union prior to the start of the Great Patriotic War. This beautiful and productive city was virtually destroyed during the war. One of the greatest battles of the Second World War, the Battle of Stalingrad, was fought in the Don and Volga Steppes. It lasted over six months and involved more than two million men, over 2000 tanks, and 26,000 guns and mortars, as well as over 2000 planes. The Germans had already occupied many Soviet Territories, thus the city of Stalingrad was pivotal as to the outcome of the war. "Fight to the Death, Not one step back!" were the main orders.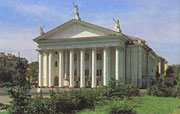 Today Volgograd is a very modern city, boasting many monuments honoring the history of this great city. You will also find many restaurants, museums, parks, and contemporary entertainment. The Central Embankment is a favorite gathering place.
During your stay you must visit the Fallen Heroes' Square, in the center of the city. Here you will find the Eternal Flame, honoring all those who gave their lives for this beautiful city.