Youzhnaja Hotel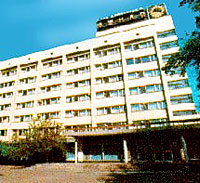 from $15 + VAT

The Youzhnaja Hotel is an economy class hotel located in a prestigious area of the city in a non-polluting green zone.

The hotel has 200 rooms. All rooms are single and double.

Each room has a TV, refrigerator, phone and a full bathroom.
Services:
Restaurant
Bars
Hair Salon
Various Shops
Shuttle
Fax
Laundry
Outfitter
A Lost and Found office
Address: Raboche-krestjanskaja, st 18.